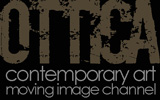 About Ottica TV
ottica: (italian translation): light, perspective, optical.
(english meaning) : branch of physics studying the physical properties of light, science of matter and energy interactions.
Back in 2007 there was very little facility for viewing movies that formed an integral part of an artist's practice. While it was common for painting, sculpture or installation exhibitions to have a printed catalogue as documentation there was little by way of this for movie based content, relying instead on stills and written and verbal descriptions. This was despite an exponential growth in this aspect of contemporary art experience by the viewing public.
I thought it would be good to explore the setting up of such a facility. At the time Jeremy Allaire was offering free facilities at his BrightCove project. Coupled with my own increasing interest in this field, I used this platform to set up Ottica in 2008 to see if there was any interest from others for this facility. About 40 artists responded and we had several screening events and e-publications including being part of the Croydon Skyline project and the Erased Walls event in Berlin in 2010.
By that time the field had changed considerably with agencies, such as Tate Modern, adopting their own video section; and the expansion of YouTube into HD for artists to post up their own content. Also at the same time, broadband streaming became progressively faster and hosting and bandwidth packages became 'unlimited' and lower in price.
When BrightCove finished its free service Ottica started to use the JW Player, with the hosting and streaming of the site at 'Bits on the Run'. This became prohibitively expensive for a not-for-profit project, especially when more and more streaming meant increase bandwidth rental cost. Ottica then moved to one of the unlimited hosting packages and now resides at YouTube where it has its own presence. Coding has moved from Flash to HTML5 which means that the text content and links can be included on the movie page. The format also moved from Flash coded line-ups and is now static indexed as 'On-Demand'.
Ottica is now positioned as a 'boutique' channel featuring its selected artists. It is also exploring a reportage section to look into artist practice at the sub-culture level; something that gets little overview on the mainstream Channels.
If you would like to support Ottica TV or make a suggestion for a project, please contact Paul Malone at Ottica TV (hello@otticatv.co.uk).
Ottica TV relies on the valued contributions of its contributors and supporters to continue to present a resource for the public and a platform for these authors and their movies.
Or maybe you just like what we do....any donations to the Channel are gratefully received.
Donation :